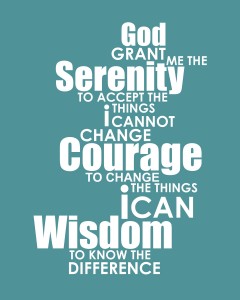 Coping tools come in handy sometimes.  Over the past two years I've been therapized to death with relapse prevention techniques, Cognitive Behavioral Therapy, Yoga, Meditation, Tai Chi, group therapy, personal therapy, Motivational Enhancement Therapy, Neurofeedback and of course, contingency management.  Otherwise known as 'Plan B'.
My sister always asks, "What's plan B? That's whatever happens when plan A fails."
So really, how do we cope?  This question applies to everyone. Don't get me wrong, I absolutely love Christmas.  But not the Christmas with going nuts eating, drinking, shopping, travel, my uncle Charlie, other people's uncle Charlie, and all the madness that goes along with the holidays including New Years Resolutions and football.
What I do love is the SPIRIT of Christmas.  You know, peace on earth good will toward men.  I remember going to Christmas Eve services in my wife's small town and taking her Grandma to sing Christmas carols and listen to the bells ringing.  I remember my house as a child, it looked like the North Pole with all the decorations, lights and candles and fires in the fireplace. Thats Christmas!
What the fuck happened to us?  Christmas is now buy, buy, buy, run, run, run, and party 'til you drop.  I like the IDEA of Saint Nick and the elves, but it's been taken way too far and way out of context.
So what's a sober, but crazy, addict supposed to do?  Use a little of that 'awareness' my Guru/Sensei teachers tell me about.  Step number one: (plan A) Don't Drink.  Plan B:  here's a bulleted list:
Eat/Party with sober peeps

I do get by with the help of my (sober) friends
You're much safer than with a bunch of addicts
Have a 'Sober Christmas Dinner' – invite your (sober) friends

Go To Meetings

S.M.A.R.T (Self Management and Recovery Training) Meetings
A.A. (Well, everyone knows this acronym…)

Indulge your body: Sports

Skiing
Walking or hiking
Running
Cycling
Snowmobiling (this is best done sober…)

Entertainment: a distraction
Pick up the 400 lb smartphone: Call someone

Your Sponsor
Sober People
A SUPPORTIVE Family member

Meditation or Yoga

Activates the  Parasympathetic nervous system (look it up)
Breathe in and out
Be a human being, not a human DOING!

Therapy

Make anappointment
Just fucking call!

Puzzles/Games

Yes, another distraction
Don't play poker!
Just enjoy
Remember Scrabble?  It's good for your mind!
Find a game your friends like, everyone has a favorite
Well, OK Play Poker and smoke cigars, just don't use.
C'mon, just do it!  You CAN get by with a little help from your friends, I do it a lot.  But it's not easy when that cell phone weighs 400 pounds.
Oh, and by the way, Merry Christmas.  Be kind to yourself…